I'm a chef who loves to get outdoors and cook. I have used many different camping stoves over the years, and the Vango Atom Stove is one I love and would highly recommend for the following reasons.
The Vango Atom Stove is a lightweight and compact burner. It is suitable for boiling water fast and cooking fresh meals. From testing, the fuel economy is excellent, and boil time is not the fastest, but it is close. As a Chef, I would use this while camping as it is compact and multifunctional.
As a Chef who loves to get out camping and hiking to keep the headspace clear, I love my cooking equipment.
A camping or hiking cookset needs to provide me with a quick way to cook meals while also allowing me to cook from fresh when possible.
I'm not the biggest fan of boil-in-the-bag meals, so having a stove which does more than boil water is what I require.
I have many gas stoves that I use regularly, and I have tested them to give you the best advice when looking to buy your next gas burner.
I have summed up my thoughts at the top of this article, but for more information about the Vango Atom, read further.
What is the Vango Atom Stove Burner?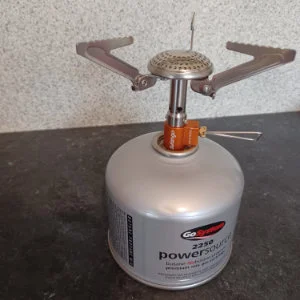 The Vango Atom Stove Burner is a lightweight and compact gas burner. It uses the usual screw-in gas canister: isobutane/propane mix or butane and propane.
The Vango Atom Stove is very fuel efficient, considering it has a lower boil time compared to a similar stove, the MSR Pocket Rocket 2.
Even tho the boil time isn't as fast, it is still pretty decent if you want to boil water quickly.
The Vango Atom can go from low to full flame in one and a half twists of the gas regulator. When you twist it to the fully open, you can feel that you are at the max flame.
I have tried other gas stoves with similar gas controls, and in the last half-turn, you don't notice any extra power, and you don't feel you have as much control.
With the Vango Atom, when opened full, each minor decrease will see the flame lower with the smallest amounts. This is great because you feel like you fully control the flame.
The Vango Atom Burner doesn't have a built-in ignition system. I prefer having burners that I manually have to light. Having no built-in ignition system means fewer parts to worry about breaking.
I have carried out some tests using my Vango Atom stove to see how accurate the claims made by the company are. The following are the stats I have gathered through testing:
Vango Stove Statistics:
Weight: 65g
Height: 8cm (combined with a 220g fuel Canister total height 16cm)
Width: 12.3cm 
Gas Burner Width: 6cm
Power: 3000w
Boil Time Full Power (500ml): 2 minutes 20 seconds
Fuel Consumption (boiling 500ml): 8g
Noise Level: 80db (Tested Indoors)
Control Valve: Spring Loaded
Ignition Source: Manual
All tests were conducted indoors under controlled settings so that the boil time would vary in the wild.
One thing about the Vango Atom Stove that you must keep in mind, which goes for most stoves of this type, is that they are susceptible to wind.
The Vango Atom Stove in the wild can be affected by any form of breeze. The wide flame on the burner is fantastic for cooking, but any breeze makes the flame lose performance.
Going with a Vango Atom stove requires a windshield to get the most from the flame. I recommend a windshield with any camping burner where the flame is open to the elements.
Using a windshield always improves your cooking performance, and they are pretty light and a great addition to any camping kit.
Vango Atom Stove Uses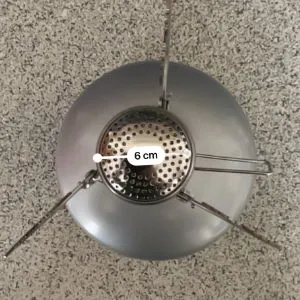 If you are camping or hiking and want to boil water fast while conserving fuel, then the Vango Atom is up there with some of the best I have tested.
The boil time is a little slower than an MSR Pocket rocket, but it uses a little over half the amount of fuel a pocket rocket would in a similar amount of time.
As a Chef who loves getting outdoors, the Vango Atom offers me real control when cooking. You feel like you control the flame with each turn of the regulator. Also, the Vango atom gas burner's width gives a wide flame that is great for wider pots and pans.
Using the Vango Atom stove, you feel the heat is distributed over more surface area when boiling or cooking food. Having great control over the flame means you can turn the gas down low and get a good simmer.
When you look at the flame on the bottom of the pan, you can see the flame touches all of the base. The flame almost comes up the sides of the pot or pan, depending on the size.
It also helps use less gas when simmering, so it's perfect all around.
This means cooking meals from fresh ingredients; the Vango Atom is ideal. This burner is something I would use if I wanted to bring a stove which is light but functional.
Cost of the Vango Atom Stove
When I first bought my Vango Atom Stove, I paid about €40 from my local outdoor store, which was about £35.
As of writing this article, you can purchase the Vango Atom Stove for between €30 to €40 (£25 to £30). You can check Amazon for the latest Vango Atom Stove Burner price.
For what you pay, you are getting a good deal. The control level is fantastic; it is light and compact and uses very little gas.
I recommend purchasing a windshield if you don't have one, or you can always make one up using tin foil.
Another great accessory to get with your Vango Atom Stove is the Vango Ultralight Heat Exchanger. The heat exchanger with the Atom stove allows you to create a cheaper version of the jetboil.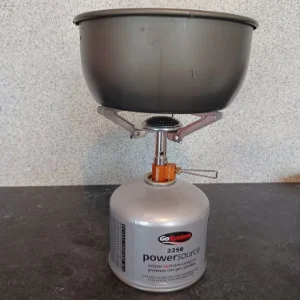 It won't be as fast as the jetboil, and you can't screw the stove to the heat exchanger, but it's a great alternative and more cost-effective than getting a Jetboil. Using this cooking system over a Jetboil will also give you far more options when cooking.
You can use it like a jetboil for boiling water fast, or you can put a pan on and fry up some bacon and eggs. It's a great little system that I highly recommend.
I have create another article on pans or camping skillets suitable for camping that you might find of use.
Summary
The Vango Atom Stove is a perfect little burner to add to any camping or hiking kit. The burner will give you many options when cooking food or boiling, and it takes up very little space.
The fuel efficiency of the Vango Atom Stove is fantastic for such a tiny burner. Combined with the amazing control you get over your flame, you will get the most from your gas canisters.
From my professional experience as a Chef, having control over your heat allows you to cook better food, and the Vango Atom Stove hits all the right spots for me.
I would place the Vango Atom in my list of top 3 stoves to choose from when I go camping; it might even squeeze into the top 2 spot.
If you are going to get a Vango Atom Stove, I suggest getting a decent lightweight pan and a good cooking pot. With the cooking pot, you can place your gas and burner in, and you have a nice little cooking system that will do almost every situation you need.
The Vango Atom Burner is a little hero of a stove, and I can't fault it.
Outdoor Personal Chef is a participant in the Amazon Services LLC Associates Program, an affiliate advertising program designed to provide a means for sites to earn advertising fees by advertising and linking to Amazon.com. We also participate in other affiliate programs which compensate us for referring traffic.