The Trangia Gas Burner is an add-on gas burner attachment for the Trangia Cooking systems, the Trangia 27, 25, Trangia Triangle and open Spirit Stove. It uses a Propane/butane gas canister with an EN417 threaded valve—a great alternative to the Spirits Burner.
Whenever possible, I love to get out into the outdoors, to get away from work and clear my brain. I'm a Chef by profession, so I love to cook the food I enjoy eating while camping or hiking.
I have always found using gas fits my style of cooking, and my Trangia cooking system allows me to cook great, simple food effectively outdoors. Here I will show you my Trangia Gas burner, which I love. It elevates the Trangia Cooking system to another level.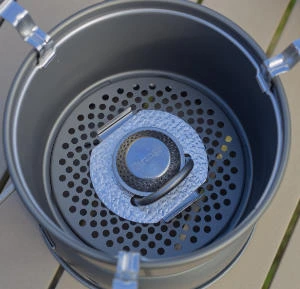 The Trangia Gas Burner
The Trangia Gas Burner is my most recent upgrade to my Trangia 27 Hard-anodised cooking system. Before, I used to rely on the Trangia Spirit burner for use with my Trangia setup.
Having a Trangia Gas Burner gives me many more options when cooking food with the various pots and frying pans that come with my Trangia Cooking setup. It is far superior to the Trangia Spirit Burner, a lot safer, and you get more burn time from the Gas Burner than the Spirit Burner.
Since I started using the Trangia Gas Burner, it almost feels like I am cooking at home except in a more oversized kitchen. Here I will share what I have learned using my Trangia Gas Burner, the benefits of swapping to gas and if the Spirit burner still has a use.
---
If you are interested I wrote an article on my Trangia Stove review that you may like to read.
---
Trangia Gas Burner Specifications
The Trangia Gas Burner allows owners of the Trangia 25, 27 and both the lightweight Triangle Stove and Open Spirit Stove to use gas instead of the Traditional Spirit Stove. Here are the Specs for the Trangia Gas Burner:
Weight: 180g (6.3ounces)
Valve Connection: EN417 Threaded 
Fuel: Propane/Butane mix
Boil Time (1l/34oz): 3.5min
Gas Consumption: 230g/8ox. The gas canister will burn on full for 1.5hrs
Energy Output: 2100 w/ 6700 btu
Built-in Ignitor: None
Simmer Control: Yes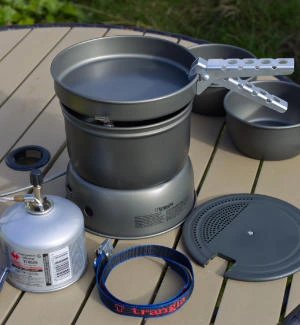 Benefits of Using The Trangia Gas Burner
Before using the Trangia Gas Burner, I used the good, reliable Trangia Spirit Burner. The Spirit Burner was good, but it had its limitations.
Trangia Simmer Control
The simmer function of the Trangia Spirit Burner, for one, was a pain to use. Anyone who has ever used the Trangia Spirit Burner will understand the process of using the simmer ring.
You take the pot off the heat, flip the pot holders out of the way, and then drop the simmer ring over the flame, hoping to get it on in the first go. Then you push the pot holders down, sit your pot back over the flame and simmer your food.
It was usable but not the most efficient method for cooking as you are burning fuel while not cooking, and you also risk scalding your hand.
On the other hand, the gas burner cuts out all the fuss of having to mess about with simmer rings.
With the Trangia Gas Burner installed, where you usually place your Spirit Burner, you leave the pot on the heat and turn it down from the gas connector if you want to simmer.
It's simple, and you don't have to remove any pots or burn yourself. Keeping the pot over the flame also cooks the food faster, and you use less fuel.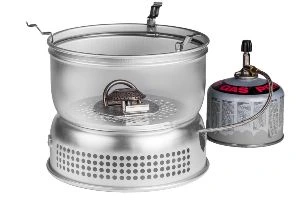 Cleaner Fuel
Another significant benefit of using the Trangia Gas Burner is that it doesn't leave any soot behind on your pots or pan. The Gas Burner is a clean fuel compared to the Spirit Burner. Anyone who has used the Spirit Burner knows it will leave soot on the bottom of your pans while cooking.
You can add water to your spirits to reduce the soot, but this also reduces the heat of the fuel, and cooking takes longer. The gas burner means less mess and an easier clean up after cooking.
Trangia Cooking Times
Speaking of cooking times, the Trangia Gas Burner beats the spirit burner every day of the week. To boil 1lt(34ox) of water will take the Trangia Gas Burner for 3.5 minutes. The Trangia Spirit Burner will take 10 minutes and use almost half of the fuel inside your stove.
That's another significant advantage of using a Trangia Gas Burner over the Trangia Spirit Burner, and you get a lot more time from Gas than Spirits.
A Trangia Gas Burner using a small 230g/8oz Propane/Isobutane mixture will burn on full power for 1.5 hours. Filling a Trangia Spirit Burner 2/3rds full, as recommended by the manufacturer, would burn out in 25 minutes. You would then need to leave the spirit stove to cool before adding more fuel.
I know that most people using a spirit stove will typically not cook anything for over 25 minutes and that one fill will generally do. The option to cook for more extended time means that the Trangia Gas Burner will always be your best bet.

Trangia Safety
Regarding safety, the Trangia Gas Stove has the Trangia Spirit Stove beat. Having a fuel source like gas stored in a pressurised container is safer than carrying a liquid fuel bottle.
You screw the connection hose onto the gas canister when connecting your fuel to the Gas Connector. If you want to add fuel to your Trangia Spirit Burner, you need to open the fuel bottle and pour in the required fuel. Handling flammable liquids like this can always increase the risk of fire.
Using a Trangia Spirit Stove, there is a greater risk of causing a fire if you accidentally knock the spirit stove over. Having an open container with flammable liquid that you set on fire, there's always that thought, what if you knock it over?
Using gas, you have that peace of mind that the risk of spilling flammable liquid all over your tent is removed. This one reason is why it is worth getting the Trangia Gas Burner for your cookset.
Summary.
The Trangia Gas Burner will give you more cooking options, speed up your cooking time, and allow you greater control when you cook. Using a gas canister will extend your cooking time and make your Trangia Stove safer.
I would highly recommend getting the Trangia Burner, and if anything, you will always have a spirit burner on hand as a second way to heat. You could get a Trangia Open stove or the Trangia Triangle, add the spirit stove, and you have two heating sources to cook.
I would be lost without my Trangia Gas Burner, and I honestly could never see myself returning to cooking with the Trangia Spirit Burner as my primary burner.
Outdoor Personal Chef is a participant in the Amazon Services LLC Associates Program, an affiliate advertising program designed to provide a means for sites to earn advertising fees by advertising and linking to Amazon.com. We also participate in other affiliate programs which compensate us for referring traffic.