Trangia Stove Review by a professional chef
The Trangia cookset is a fantastic all-in-one cooking system. It can give the hiker or backpacker more options when cooking their food. Having a Trangia cookset is like carrying your very own camping kitchen with you wherever you go.
The Trangia Cookset Review
In this Trangia stove review, I will use my years of experience working as a professional chef to give you an honest and personal opinion of the Trangia Cookset.
As a professional chef, having a camping cooking system that gives me plenty of options is essential when I'm out hiking and camping. I'm not a boil-in-the-bag type, so having a camping cooking system that gives me the freedom to do more is vital.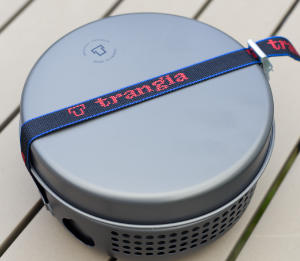 Having one pot that boils water might be great for most people, but I need to have a camping cooking system that will give me more than one pot for all solutions.
This is where for me, the Trangia cookset is king.
Cooking with Trangia Stove
Cooking with Trangia is like having a little camping kitchen to hand when you are out and about; it is a complete cooking system.
Most basic Trangia cooksets are made up of the following items:
An upper and lower windshield
Two pots
A frying pan
A burner
Pan/pot handle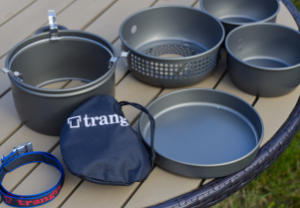 All the above items easily nest into each other for easy storage and are held together with a strap that comes with each Trangia cookset.
Some Trangia cooksets come with an additional kettle, or one can be purchased separately.
For my Trangia cooking system, I skipped the kettle as I can quickly boil water in a pot, but I did purchase a multi-function lid/chopping board which they call a 'multi-disc.' This lid is designed to fit eat pan and also can act as a strainer when needed. It can also be attached to the base of the windshield to be used when placing the Trangia cookset on snow. This isn't something I've ever had to worry about, but at least it's there if you need it.
Cooking with a Trangia cookset is fantastic. A dedicated frying pan is excellent for quick meals where you need to fry up some bacon or eggs, make a scrambled egg or an omelet, or, if adventurous, pan fry the perfect steak.
This is where the Trangia stove comes into its own.
Cooking Trangia Stove Meals
So let's say you are out for an overnight camp. You are sick to death of eating that boil-in-the-bag muck that makes you feel like you are passing a lemon through a keyhole the next day.
You bring along a Trangia cookset, and now you have multiple cooking methods at your hands.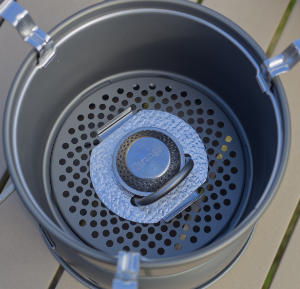 As a chef, when I go out for a camp, I often prepare most of what I need to cook before I leave the house. This is the same in any professional kitchen, where you get your prep work done before you cook meals to send to diners.
So once my camp is set up and I'm ready for something good to eat, I take out my Trangia cookset and set it up.
Setting up a Trangia stove takes a minute or two to perform. If your heat source is spirits, it might take a little longer to get a good flame going. I carry the gas burner because it allows me more options when cooking. Using a gas burner will give me more heat control when cooking over using the spirit burner. Plus, you don't have to mess with a simmering ring or top up the fuel if it runs out.
So you have your Trangia cookset out and ready to go. You now have a frying pan and two pots to cook your meal; this gives you many options.
You can put one pot on to boil water for a hot drink and some water to wash up, then use the second pot for cooking some noodles. If you don't feel like noodles, why not try rice or mashed potato? Maybe par cook potato, dice it up, and pan-fry it with garlic butter.
The frying pan allows you to pan fry meats adding additional flavour, and can then be transferred into your pot of rice or noodles. You can use the pot as a bowl to eat from and have a complete meal from one cooking system.
Yes, it's a little more work, but if you love food and experiencing the joy of cooking outdoors with your own camp cooking system, it's perfect.
When you wake up the following day, you have your Trangia cookset to hand and can fry up some bacon and eggs with some coffee, and you are set for the day.
Trangia Stove review summary
In summary, the Trangia cookset is a fantastic cooking system for those who want to cook more when camping or hiking. The nesting system allows you to carry a whole kitchen in your bag, and with the included frying pan and two pots, you can prepare a vast range of meals.
As a chef, I highly recommend this cooking system for any hike or camping expedition. Food is meant to be enjoyed, and cooking food using a Trangia cookset is an experience.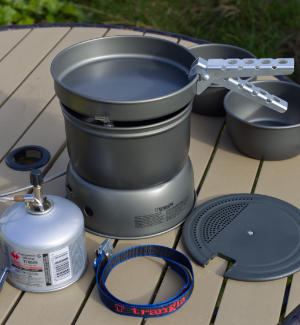 Related Articles
Outdoor Personal Chef is a participant in the Amazon Services LLC Associates Program, an affiliate advertising program designed to provide a means for sites to earn advertising fees by advertising and linking to Amazon.com. We also participate in other affiliate programs which compensate us for referring traffic.