The Platypus Quickdraw hollow fibre Microfilter combined with a water bladder is a fill-and-squeeze water filter. It filters 1l of water in under a minute and can fit 28mm soda bottle treads. It Removes 99.9999% Bacteria and 99.9% Protozoa.
I bought my Platypus Quickdraw Microfilter and bladder over a year ago and have it with me on every hike and camping trip I go on. I usually don't even need to use it, but having the peace of mind that I can filter water if needed is perfect. 
In the following article, I will go through my thoughts on this Microfilter and give you details and instructions on this fantastic bit of kit.
What is the Quickdraw Water Filter?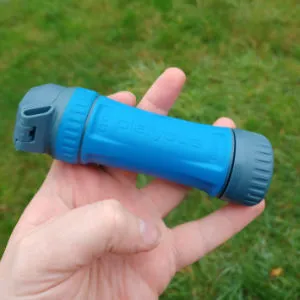 The Quickdraw MicroFilter is a lightweight hollow-fibre membrane water filter, perfect for camping and hiking.
It weighs in at 2.2oz / 62g and can remove 99.9999% bacteria and 99.9% protozoa, including Giardia, Cryptosporidium, E. coli, Salmonella, and Cholera.
The manufacturer claims you can fill 3ltrs of water per minute using this system. Still, from testing, I have found that realistically I was able to filter 1ltr of water in just under a minute (49 seconds, to be exact).
The Platypus Quickdraw MircoFilter can be purchased as a system with the Quickdraw MicroFilter and a 1ltr platypus pouch. It can also be purchased as a standalone filter without a pouch.
I purchased the Platypus Quickdraw water filter and pouch because I wanted a complete filter system to see how good the platypus water pouch is.
The Platypus Quickdraw water filter is dual treaded, so it works with the Platypus range of water bottles and pouches, the SmartWater bottle and all soda bottles with a 28mm thread, which is most soda bottles.
This is fantastic because you don't necessarily need the Platypus water pouch to attach to the Quickdraw filter. Use any water bottle for your dirty water if the thread is 28mm.
However, I prefer having a water pouch with this filter, as rolling the pouch down to squeeze the water through the filter is ideal.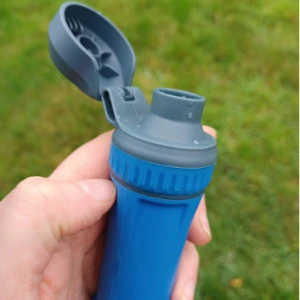 Platypus Quickdraw Water Filter Specs:
Weight (Filter): 84g / 2.9oz
Weight (Filter + Bladder): 129g / 4.5oz
Filter Thread: Dual Tread system (fits 28mm water/soda bottle)
Filter Build: ABS Plastic Blue
Filter Life: 1000ltrs
Dimensions: 12cm x 5cm / 4.7inch x 1.9inch
Filter Type: Hollow Fiber
Pore Size: 0.2 micron
Country of Manufacture: USA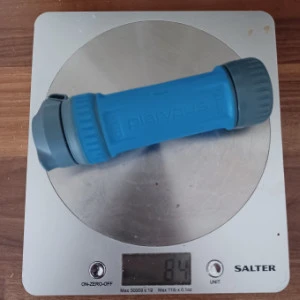 How do you use a platypus quickdraw water filter?
Using the Platypus Quickdraw water filter is easy. You just fill a container with dirty water, a platypus water bladder or other water bottles with a do.
You unscrew the camp on the platypus quickdraw water filter that says dirty, and you attach this to your bottle of dirty, unfiltered water.
You can flip open the cap on the end that says clean and drink directly from the filter or squeeze the water into a clean container.
You can use the quickdraw filter as a gravity filter, too; this will take longer to filter your water. You just hang your dirty water bottle and allow the water to flow through the filter into a clean container.
---
If you enjoy reading about outdoor equipment then give my article on the difference between the Trangia 25 and Trangia 27 a read.
---
How do you clean the Quickdraw Filter?
Cleaning the Quickdraw water filter can be done in the field, or you can weigh it until you are at camp or returned home that day.
You can use two methods to clean the quickdraw water filter: the shake clean and the backflush method.
The Shake Method:
The shake method is primarily used if your water filter has been clogged with debris in the field. You will notice a slower water flow when filtering if it is clogged. The shake method will clear the debris and allow you to continue to filter your water.
Take your dirty water bottle of choice and fill it with 1ltr of water. Attach your water filter's dirty side to the bottle and squeeze 3/4 of the water through the filter leaving 1/4 of the water in the bottle.
With the remaining water, hold the filter and bottle horizontally and vigorously shake for 15 seconds. Then holding the filter and bottle vertical, shake for another 15 seconds.
Unscrew the filter and empty the contents of the water bottle. Don't squeeze the water through the filter.
You can now proceed to filter the water, and the flow should have returned to normal.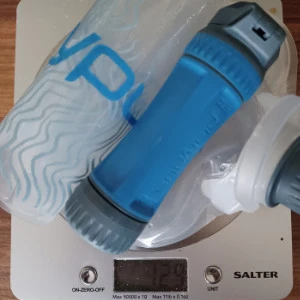 The Backflush Method:
This method is the most effective way to clean your Quickdraw water filter out in the field or at home.
Using a clean bottle with filtered or clean water, unscrew the cap from the dirty side and open the clean side cap flip lid of your water filter.
Place the clean side of your quickdraw filter into the clean water bottle, creating as tight a seal as possible. Invert your filter and water bottle and backflush the clean water through the clean side of your water filter out the dirty side.
You want to backflush your filter with 1.5ltrs of water to ensure the filter is as clean as possible.
The Complete guide to using and maintaining your water filter is available in pdf from the Platypus website or by clicking the following link: User Manual for Quickdraw Water Filter.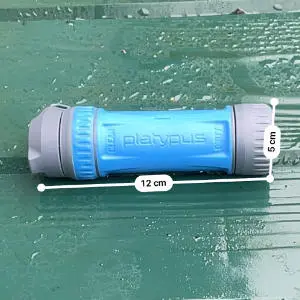 How to clean your Water Filter for Storage
For long-term storage, it is recommended that you backflush your filter with diluted household bleach, 2.5ml (1.4 tsp) of bleach per 1ltr of water.
To clean using bleach, attach your Quickdraw water filter to a 1ltr bottle of water/bleach mixture. You attach it to the dirty end and push half of the liquid through the filter.
Allow your filter to sit for 30 min, then push the remaining liquid through. Allow to sit again for 30 minutes, then remove the filter from the water bottle.
Leave the caps removed from the filter and allow the filter to dry before replacing the caps and storing them.
It is perfectly fine to store the filter wet if it has been cleaned with bleach. The liquid will prevent bacteria growth. It must be stored at room temperature, so it doesn't freeze, which will cause damage.
How To Check the Quickdraw Water Filter for Damage?
Checking your Quickdraw filter for damage is a very simple process. Since the Quickdraw filter has a hollow fibre membrane, it can be prone to damage if it is dropped or freezes.
To check if the filter is still intact and functioning properly, fill your water bottle with water and attach it to the dirty side of the filter.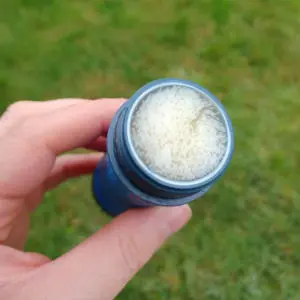 Filter half of the water through the Quickdraw cartridge, then turn it so that the water bottle is face down and the clean side of your filter is facing up.
Squeeze your water bottle forcing air up into the Quickdraw water filter. Look into the clean side and watch for bubbles. If you see air bubbles coming through the clean side, then your filter is compromised and not safe to use.
If you push air through and no bubbles are identified, the filter functions properly.
The Pros of using the Platypus Quickdraw Water Filter:
Light and compact roll-up with the pouch for easy storage.
Filters bacteria and protoza to give you peace of mind.
Easy to clean in the field.
Can use regular water or soda bottles as a bladder
Can easily carry out an integrity check in the field
Can drink straight from the cartridge or filter into a clean container
Great Value for money
The Cons of using the Platypus Quickdraw Water Filter:
Susceptible to damage through dropping and freezing
Lifespan is relatively short, 1000ltrs
Won't filter the advertised 3ltrs of water in 1 minute
Won't filter viruses
Summary
The Platypus Quickdraw MicroFibre water filter is a perfect compact for camping, hiking or days out when you may need clean water.
The flow rate, although not 3ltr per minute, is perfectly fine for out on the trails, and you can easily filter 1ltr in less than a minute with a little pressure.
The filter folds away nice and neat and is light and compact that you can store it in a side or top pocket of your pack and not even know it's there.
I would highly recommend this product because of its ease of use. The bonus that you can attach a regular soda bottle is fantastic if you have an issue where your bladder bursts or gets lost.
This little water filter comes everywhere when I am camping or hiking, and I wouldn't leave home without it.
It may not last as long as most other filters on the market, but with a 1000ltr use, it will do more than enough to last me a few years.
Outdoor Personal Chef is a participant in the Amazon Services LLC Associates Program, an affiliate advertising program designed to provide a means for sites to earn advertising fees by advertising and linking to Amazon.com. We also participate in other affiliate programs which compensate us for referring traffic.