What's the difference between the trangia 25 and the 27?
The main difference between the Trangia 25 vs. the 27 is the size. The Trangia 27 cooking system is suitable for 1-2 people, while the Trangia 27 is designed for 3-4 people. High Trangia number, smaller size.
The links on this page are affiliate links which give me a little back if you purchase from them.
Trangia Cook Set
The Trangia Cook Set, both the larger Trangia 27 and smaller Trangia 25, are made up mainly of three types of materials. These materials are as follows:
Ultra-light (UL)
Hard-anodised Ultra-light (HA)
Non-stick
Trangia also offers some of their pots and pans in a material known as Duossal. It's extremely popular as it is made up of a combination of laminated stainless steel on the inside and aluminium on the outside. Due to their popularity, they are tough to find, and some people will snatch them up if they find them.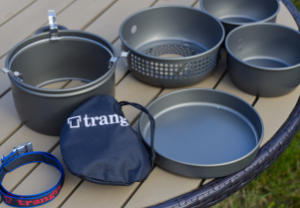 Trangia Materials
Trangia Ultra-light (UL)
The Trangia Ultra-light system is made from aluminum, and the weight depends on your Trangia setup. The Trangia Ultra-light is typically the budget-friendly of all sets.
Trangia Hard-anodised (HA)
The Trangia Hard-anodised set is made of hard-anodized aluminum, preventing the pots and pans from scratches and scrapes. This is perfect for camping as it will get a load of abuse while out and about.
Trangia Non-stick
The Trangia non-stick pots and pans are aluminum based with a non-stick coating layer preventing food from sticking to the pots and pans. This material is a little more scratch-prone, so care needs to be taken.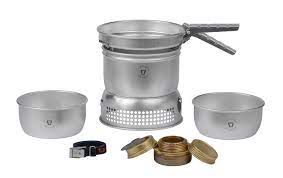 Trangia Cooking System
The Trangia cooking system comes in several combinations, with the primary system consisting of a windshield, two pots, a frying pan, and a pot handle. All items nest neatly into one other for easy storage and portability. Some systems and an additional kettle is included.
For heating options, you have two, the iconic Trangia spirit burner or their Trangia camping gas attachment.
For more information on the Trangia Gas Burner, read my article about the Trangia Gas Burner, where I explain the benefits of the gas burner in its features.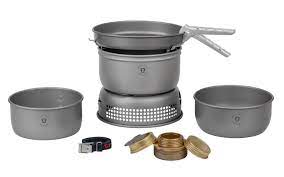 Trangia 27
The Trangia 27 cooking system is designed for between 1 and 2 people. From personal experience, I would say it's the perfect size for one person due to its size and the amount you can cook.
The Trangia 27 cooking system comes with two pots/saucepans and will hold 0.75lts of water/1 and half pints/750ml/26 oz. The main Trangia website says they will hold 1lt if liquid; trust me, they don't.
Along with the two nesting pots, you get a frying pan 18cmm/7 inches wide by 3cm/1inch deep.
The kettle can hold 600ml/20oz of liquid.
Trangia 25
The larger Trangia 25 consists of two nesting pots/saucepans, a frying pan, and a kettle for 3 to 4 people.
For the two pots/saucepans, the larger will hold 1.75lts/59oz while the smaller will hold 1.5ltrs/33oz.
The frying pan comes in at 22cm/8.6inches wide to 3cm/1inch deep.
The kettle can hold 900ml/30oz.
Trangia 25 vs 27
As you can see from above, each system is designed for the number of persons required to cook a meal.
The higher number 27 is for a lower group of people, 1 to 2, and the lower number 25 is for a higher group of people, 3 to 4.
Each system comes in a choice of Ultra-light (UL), Hard-anodised (HA), or Non-stick.
You can also mix and match materials to get an Ultra-light windshield and choose either the Hard-anodised pots and pan or non-stick.
This allows you to tailor your Trangia cooking system to your budget and needs.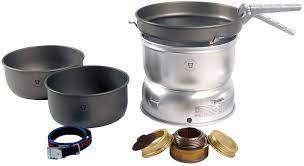 Which Trangia should I buy?
Which Trangia I should buy depends on how many people you want to cook for.
If you are looking for a Trangia cookset for one person, then the Trangia 27 is your go-to Trangia cook system. This system will also do for a couple camping easily; with the multiple pots and frying pan, you can cook a solid meal together.
For more than one or two people, then the Trangia 25 will cover your needs. This system will cook enough food for 3 to 4 people with ease.
All you need to decide then is what quality Trangia cooking system you want and how much you will spend.
If you are looking for a primary budget cooking system, then the Ultra-light (UL) Trangia cooking system will be what you want to choose. The Ultra-light Trangia cookset is light, budget-friendly, and will easily last a long time. The only downside is that being made from aluminum, the heat conduction isn't the best, so using the frying pan will often end up burning food if not careful.
The middle ground for people looking to watch their budget but wanting something that cooks food a little better is getting the windshield made of aluminum and pots and pans from Hard-anodised (HA).
The Trangia Hard-anodised pots and pans are much more rigid and resistant to scratching. They also have much better heat conduction, so less burning.
If budget is no option and you want something that looks good and is pretty tough, then the full Trangia cookset made that's Hard-anodised (HA) is your option. Having a hard-anodized windshield isn't necessary as it doesn't add any performance benefits, but it looks much better than an aluminum version. It's down to personal choice.
I personally own a Trangia 25 full Hard-anodised version, and I love it. I love the premium look of the cookset, but having an aluminum windshield will do the same job at less cost.
If you like the posts and want to learn more about the Trangia cooking system, please visit my Trangia Stove Review post for more information.
Related Articles
Best Cooking Equipment or Camping
Outdoor Personal Chef is a participant in the Amazon Services LLC Associates Program, an affiliate advertising program designed to provide a means for sites to earn advertising fees by advertising and linking to Amazon.com. We also participate in other affiliate programs which compensate us for referring traffic.