A Trangia Stove is a Swedish-made portable camping stove that primarily uses alcohol as its fuel source. The Trangia stove is a nesting cooking system. Pots and pans easily nest to create an all-in-one cooking system perfect for backpacking. A gas burner is also available.
I've been using Trangia Stoves for many years and have used the alcohol/spirit burner and the gas burner.
The Trangia Stove is perfect for my cooking needs as a Chef, primarily cooking camping food using fresh ingredients.
Read further if you want to understand why the Trangia Stove is always my personal choice when camping or backpacking.
Trangia Stove
The Trangia Stove is made in Sweden and is designed to be a lightweight camping cooking system for backpackers and hikers. The Trangia Stove comes in various builds and materials and offers backpackers a way to choose a cooking system that is best suited for their cooking needs.
The Trangia Stove consists of an upper and lower windbreaker, a single or double pot and a frying pan. Some Trangia Stoves can be purchased with a Kettle for boiling water.
As a way of heating and cooking your food, you have two options. The main and most common method is their Trangia Spirit Burner, also known as an Alcohol Burner. The second is by purchasing their Trangia Gas Burner attachment. If you are interested in learning how to use a Trangia Stove, then my article on how to use a Trangia stove will explain more.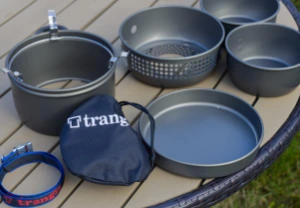 Trangia Cooking System
The Trangia cooking system allows all the pots and pans to nest into each other so that you can carry a large number of cooking pots in a very small package.
The usual cooking system will consist of two pots and a frying pan that acts as a lid. Along with your burner of choice, you will get pot grips for removing pots and the pan from the heat.
All pots are placed in the windbreakers, and the pan is used as the lid. A supplied strap is then used to hold everything together for packing away.
Trangia Stove Options
The Basic Trangia Stove is made of Aluminium and is lightweight and affordable. The aluminium build is the entry-level of their cooking systems and is perfect for all camping uses.
The next step is a combination of aluminium windbreakers and Hard-anodised pots and pans. The Hard-anodised pans offer a lightweight option while being scratch resistant and has better heat distribution.
The top level is a full Hard-anodised cooking system. With the Hard-anodised cooking system, you get the pots, pans and windbreakers hard-anodised as standard.
A hard-anodised windbreaker isn't necessary, but it offers more scratch protection, and they look amazing. This is the Trangia cooking system I have. I'm a sucker for good-looking equipment.
Trangia Stove Size
The Trangia Stove comes in two sizes, the Trangia 25 and the 27. The way these cooking systems are sized can be confusing.
The Trangia 25 is for a larger group of 3-4 people. The Trangia 27 is for a smaller group, 1-2 people. Personally, I think the Trangia 27 is the perfect size for a solo backpacker.
What is a Trangia Spirit Burner?
The Trangia Spirit/Alcohol Burner is a camping burner that uses alcohol as its primary fuel. It is made of solid brass and contains a cotton wick inside.
The burner is filled 2/3 full (approx 100 ml/fl oz) with Methylated Spirit/Denatured alcohol and is lit with a flame. Once lit, it needs 2 to 3 minutes to prime.
You will know the burner is primed and ready to use when flames start to appear from the trangia jet holes.
The Trangia Spirit/Alcohol Burner is a cost-effective way of heating food when out camping. The fuel required for the stove is very inexpensive and lasts a long time.
You can simmer food with the Trangia Spirit Stove, but you will need to purchase the Trangia simmer ring for your Trangia Spirit stove. This ring blocks some of the jet holes allowing you to cut down the amount of heat being produced.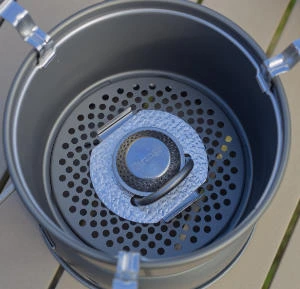 What is a Trangia Gas Burner?
The Trangia Gas Burner is an attachment which can be purchased with some Trangia stoves or separately.
It uses Gas Canisters which contain Butane, Propane, Isobutane or a mix as its fuel source. The gas burner is attached to the Trangia stoves, similar to the Spirit Burner.
The benefit of using the Trangia Gas burner is that you can heat food and boil water much faster. The Trangia Gas burner allows more control over simmering food as you can turn the gas down.
How Fast Do Trangia Stoves Boil?
A Trangia Spirit Burner filled with BioEthanol fuel will boil 1lt(34oz) of water in 10 minutes. The Trangia Gas Burner using Isobutane/Propane mix will boil 1lt(34oz) of water in 3.5 minutes. A lid must be placed on the pot to ensure the best boiling time is achieved.
I prefer using the Trangia Gas Burner with my cooking system as gas allows me more control when cooking and simmering food. It also allows me to heat my food and boil water faster due to the higher heat output from the gas burner.
The Trangia Spirit Stove is perfect if you want something light and just need it to boil your water. It will take a little more time to boil your water, and you may have more cleaning to do due to the soot from the spirit burner, but it's still a perfect alternative.
---
I you enjoyed this article make sure to read my review on my Trangia Cooking System.
---
Additional Trangia Equipment
If buying a Trangia Cooking system, I would always choose the two-pot and one-pan system. I would forget the kettle instead of buying a multi-disc lid. This lid can be attached to the frying pan and pots and acts as a chopping board, sieve and platform for your stove.
The Trangia Cooking System comes with a canvas strap, additional leather straps, a Trangia carry bag, or a hard EVA foam case.
If you want to get fancy, you can pimp your Trangia kit out with a leather carry case, leather handle covers and a leather strap. It depends on how stylish you want to look out in the wild with nobody around.

Summary
The Trangia Cooking system is perfect for backpackers or hikers who want more options than just boiling water when out in the wild.
With the option of using Alcohol or Gas to fuel your stove, you have plenty of lightweight and cost-effective options.
The nesting build of the Trangia Cooking System means you can carry quite a lot in a very small space. It's almost like you have your own personal kitchen while out camping.
For people just getting into camping, the Aluminium set is perfect. If you want something more durable, I recommend getting the Aluminium windbreakers and the pots and pan Hard-anodised.
The Hard-anodised pots and pans will last you a very long time, and you save money not getting a full hard-anodised set.
Outdoor Personal Chef is a participant in the Amazon Services LLC Associates Program, an affiliate advertising program designed to provide a means for sites to earn advertising fees by advertising and linking to Amazon.com. We also participate in other affiliate programs which compensate us for referring traffic.